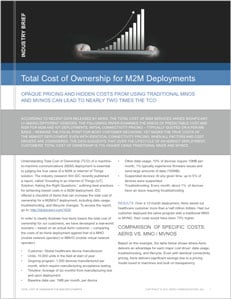 Did you know that opaque pricing and hidden costs from using traditional MNOs and MVNOs can lead to nearly two times the TCO?
Understanding the nuances of a machine-to-machine communications deployment is essential to judging the true value of a M2M or Internet of Things solution.
If you would like to know how it is possible to get competitive pricing, excellent connectivity (even in remote locations), the industry's best global support, all while saving money in the process, you need to read this real-world case study.
This document shows:
How one healthcare device manufacturer saved more than $500,000 during the lifecycle of its M2M program
A detailed comparison of hidden costs within data usage pricing, troubleshooting methodologies, and lifecycle changes that increase total cost of ownership
Complete the registration form on this page to receive a copy of new data that documents how MNOs (Mobile Network Operators like AT&T, Verizon & Deutsche Telekom) and MVNOs (Mobile Virtual Network Operators) charge their customers 73% more than alternatives.
Get your copy!