Whitepaper
Why MVNOs and Carriers Aren't Right for Your M2M Application
Don't make a M2M purchasing decision until you read this paper.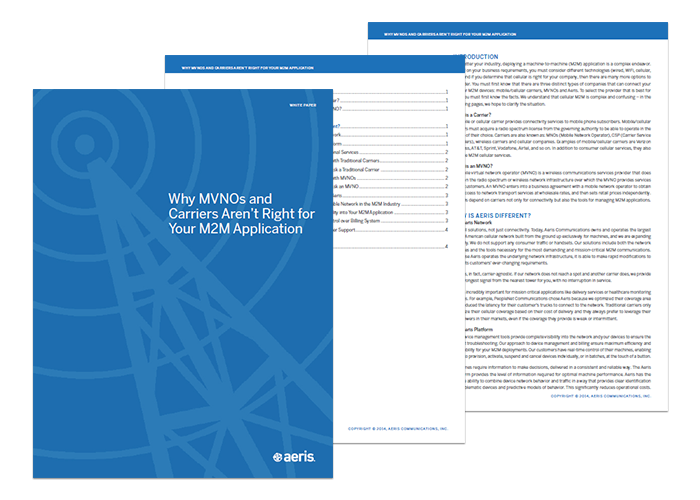 What's Inside:
Customization capabilities for the different types of providers
The different rate plans and billing methods.
Optimal technologies and processes for more effective troubleshooting
Questions that you should ask MVNOs and traditional carriers when choosing a provider.
Who Should Read This Report:
No matter your industry, deploying a machine-to-machine (M2M) application is a complex endeavor. You must first know that there are three distinct types of companies that can connect your cellular M2M devices: mobile/cellular carriers, MVNOs and Aeris. To select the provider that is best for you, you must first know the facts. We understand that cellular M2M it is complex and confusing -- in this whitepaper, we hope to clarify the situation.
Who will benefit? Anyone looking at M2M services from these industries will benefit including:
Fleet management
Healthcare
Irrigation
Parking
Any enterprise seeking the right answers for their M2M solutions!